Welcome to Captain Larry's Lake Erie Fishing Adventures!
Lake Erie Fishing Adventures, located at Spitzer Riverside Marina in Lorain Ohio, provides seasonal daily Lake Erie fishing charters for Walleye or Yellow Perch as well as guided duck hunting trips. Experience the best outdoor adventure Lake Erie area has to offer!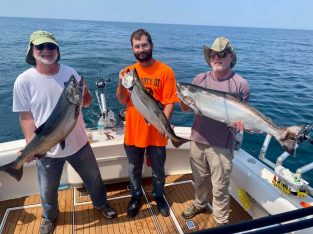 Book Now For Spring Walleye Fishing
Lake Erie is a world-class lake for walleye. Year after year, it produces top quality fish in large numbers. Fall is a GREAT time of year for catching! 
Our skilled, experienced guides provide a safe and exhilarating experience for anglers and hunters of any level. Whether hunting, perch fishing or world-renowned Lake Erie walleye fishing, our guides will help you create memories that will last a lifetime.
Bond with friends or family on a trip of a lifetime focused on you.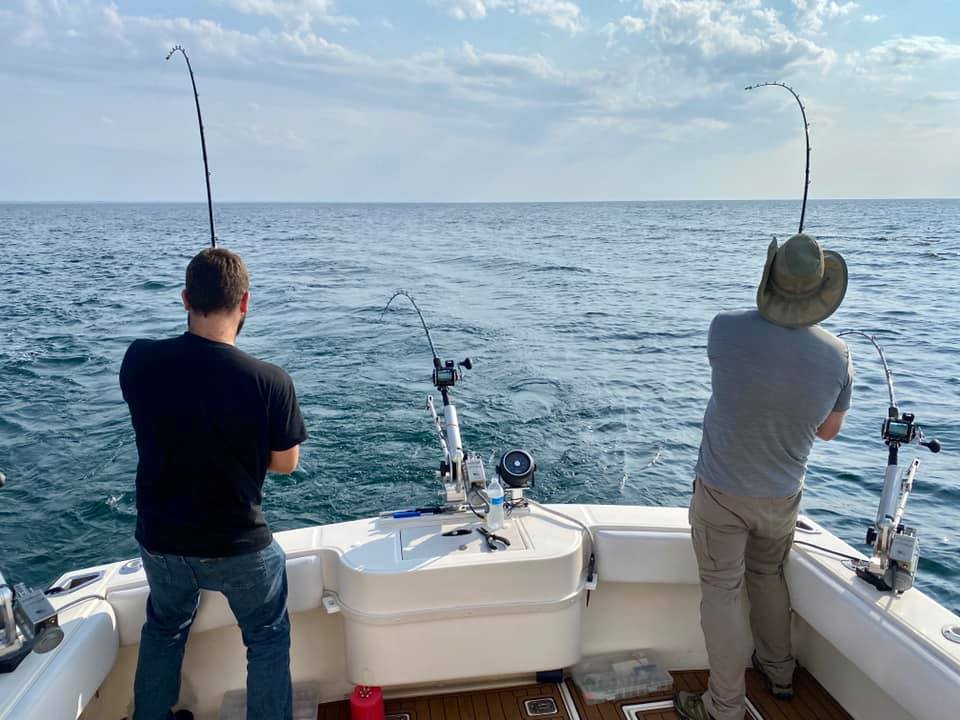 Contact us to book your trip – we're confident you will remember the Lake Erie Fishing Adventures experience!
Lake Erie is one of the top fisheries in the world for walleye and perch – we take you to where the fish are biting! Daily charters available throughout the season., and are perfect for family or a small group of friends.
Book your trip now or call Larry at 419-707-1065 for more information.
Big, spacious & stable fishing boats
configured with Lake Erie in mind.
All of Our Boats Feature:
Length: 30′
Heated Cabin
Private Bathroom
All Fishing Charters INCLUDE Bait, Rods and Tackle
PLEASE NOTE: A 25% non-refundable deposit of the total cost of your trip (or a minimum of $180) is required to hold any date on our calendar. If you must cancel, your deposit can be applied to a future available date.
A word from our captains…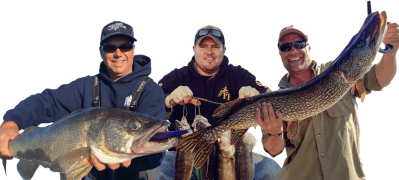 Our team was forged out of our undying passion for being on the water and experiencing the thrill of the hunt. It is an honor to be trusted by you and those close to you to guide you on your charter. We strive to bring top notch customer service and make sure that your memories made will never fade.
Our Lake Erie Walleye Fishing Charters are a hit every year, and we always end up seeing familiar faces when it's time for guided duck hunts. We know the hottest spots on Lake Erie and sure winners on our Maumee River Walleye Run.
No matter what kind of Lake Erie Fishing Charter you are looking for, our team will deliver for you!
If you have questions or are ready to book a trip, complete this simple form and we'll get you set up and answer all your questions before your charter!
How to 'zipper' a walleye for boneless fillets -  with Captain Larry Weiss
Yellow Perch are of the abundance in Lake Erie and widely considered to be one of the more tasteful freshwater fish. The Lake Erie Perch is a yellow-gold fish with dark-striped sides and grows to be up to 15-inches in length – and perfect for a family outing.
When a school of perch goes into a feeding frenzy, the fish can provide anglers with plenty of action, rewarding them with a nice cooler of fish for supper.
Perch fishing can be very simple. Their small size, abundance and aggressive attitude make them a popular fish for young anglers.

Perch fishing terms to know:
Up & Down/Hot & Heavy:
As soon as you lower your bait, you're reeling it up.
Double Header: You're catching two yellow perch at a time, using a double hook tactic.
Triple Header: Similar to a Double Header, except three perch. This mostly occurs during a frenzy.
Steady Pick: When Yellow Perch are biting, but it's not a frenzy.
Slow Pick: The perch are biting every once in a while.