THREE(3) Big boats ~ groups up to 18 anglers!
All Walleye Charters INCLUDE Bait, Tackle & Fishing Knowledge
Lake Erie Walleye Fishing Charters
Fishing for walleye in Lake Erie differs from anywhere else. Walleye are typically considered a nocturnal feeding fish, most easily caught at night and in the pre-dawn hours.
This is not the case when fishing Lake Erie. Lake Erie has the best daytime walleye fishery in the world. Countless baits and tactics are used to land these beautiful fish such as trolling, casting, jigging and more.
Walleye are olive and gold in color with very sharp teeth. These freshwater predators can grow up to 30″ long and weigh up to 15 lbs. Their primary food source in Lake Erie are Emerald Shiners, generally referred to as minnows. Lake Erie walleye also consume shad, smelt and small yellow perch.
Full Day Walleye Fishing Charter
7-hours Dock to Dock or limit
(Price with Fish Cleaning)
1-4 Anglers = $700 ($795)
5 Anglers = $875 ($995)
6 Anglers = $1050 ($1195)

20% tip of your total trip cost is customary for the mate and crew
Port Clinton is considered by most to be the "Walleye Capital of the World." Unlike many other states and inland walleye lakes, the Ohio portion of Lake Erie does not have a closed season on walleye. Liberal limits and year round fishing is a testament to the abundance of walleye that Lake Erie has to offer.
FISH CLEANING! Let us know when you book your charter that you'd like to take advantage of our fishing cleaning service. Put your catch right in the freezer and avoid that fishing smell.
Fish & Fowl Adventures focus our fishing efforts in the best known areas that hold walleye year round, including (but not limited to) the Western Basin Reef Complex, specifically:
Western Basin Reef Complex
Niagara Reef
Flat Rock Reef
Toussaint Reef
Crib Reef Round Reef
Crane Reef
Locust Reef
Turtle Reef
Big Pickerel Reef
West Reef
Little Pickerel Reef
North West Reef (the Bean)
Cone Reef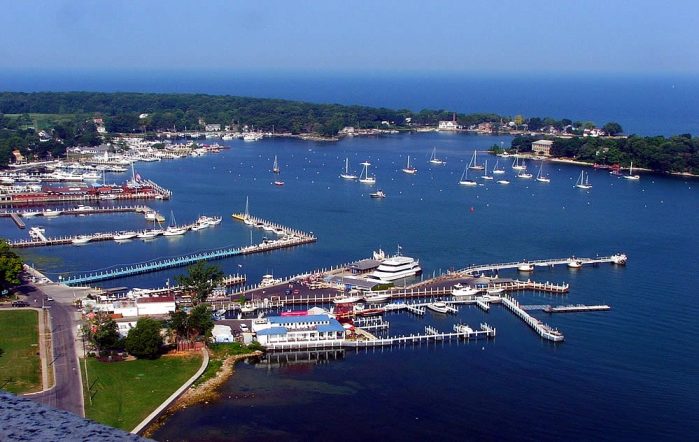 We also catch walleye off the Bass Islands Area such as South Bass Island (also where Put-in-Bay happens to be located), North Bass Island, Middle Bass Island, Green Island, Rattlesnake Island, Catawba Island and West Sister Island. The Camp Perry National Guard Firing Range Buoys; A-Can, B-Can, C-Can, D-Can, F-Can, G-Can. Maumee Bay, The Turn Around Buoy and the Sputnik are also good areas to target summertime walleye. The Sand Bar off of Vermilion, The Dumping Grounds off of Lorain, The Vermilion Weather Buoy, Beaver Park located on Beaver Creek, The Humps off of Avon, and Avon Point produce some of the largest walleye in the country.
TACTICS:
During the early spring, walleye migrate to Lake Erie's south shore reefs and streams to spawn. We utilize vertical jigging with hair jigs to land these fish. Purple, dark green and black jigs are our most productive colors. Crank baits work best when the water is cold, so our advice is to couple crank baits with slow trolling strategies –  to entice larger fish and get them moving.
Post spawn season, which starts around May, brings the Walleye schools to the Western Basin Reef Complex near the Lake Erie Islands. The warmer months bring out our large boat. During this time, we use drift casting, bottom bouncing, and trolling tactics. Small spoons work well, but double worm willow harnesses provide anglers with a great back-up plan on bad spoon days.
General Information
All of our fishing charters are for 1-6 people. Rods, tackle, bait & ice are included in the price of the charter.
Ohio Fishing License and/or
Michigan Fishing License
Sunglasses
Sunscreen
Camera (with extra batteries)
Food & Drink
Cooler for Fish
Motion Sickness Medicine
Rain Gear
Deposits
A 25% non-refundable deposit of the total cost of your trip (or a minimum of $180) is required to hold any date on our calendar.
If you must cancel, your deposit can be applied to a future available date.
For more information about purchasing an Ohio fishing license or to purchase online, go to: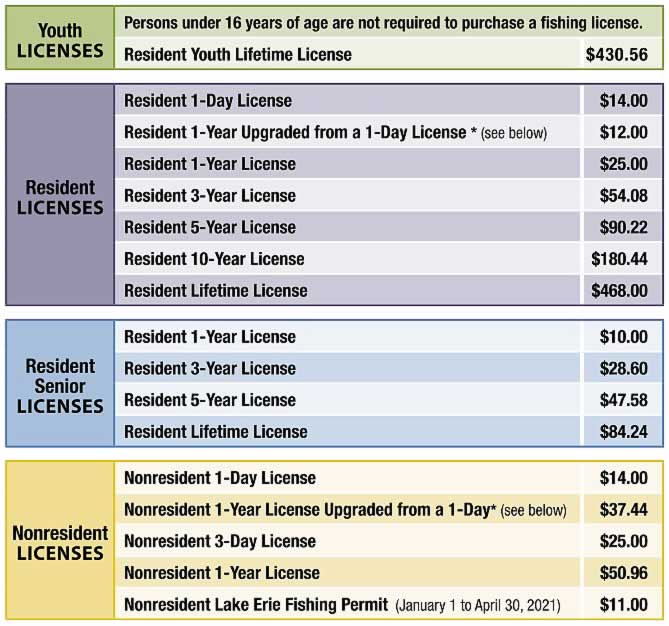 Nonresident Lake Erie Fishing Permit $11
* A Lake Erie fishing permit is required for non-residents from January 1 to April 30 annually when fishing Lake Erie and areas immediately upstream in creeks, rivers and tributaries.
Michigan Fishing Licenses
For more information about purchasing a Michigan fishing license or purchase them online at:
Michigan Department of Natural Resources
DNR Sportcard $1.00
All-species Fishing Licenses
Resident Annual $26.00
Nonresident Annual $76.00
24-hour (Resident or Nonresident) ~ $10
72-hour (Resident or Nonresident) ~ $30