THREE(3) Big boats ~ groups up to 18 anglers!
All Perch Charters INCLUDE Bait, Tackle & Fishing Knowledge
Lake Erie Perch Fishing Charters
Yellow Perch are of the abundance in Lake Erie and widely considered to be one of the more tasteful freshwater fish. The Lake Erie Perch is a yellow-gold fish with dark-striped sides and grows to be up to 15-inches in length – and perfect for a family outing.
When a school of perch goes into a feeding frenzy, the fish can provide anglers with plenty of action, rewarding them with a nice cooler of fish for supper.
Perch fishing can be very simple. Their small size, abundance and aggressive attitude make them a popular fish for young anglers.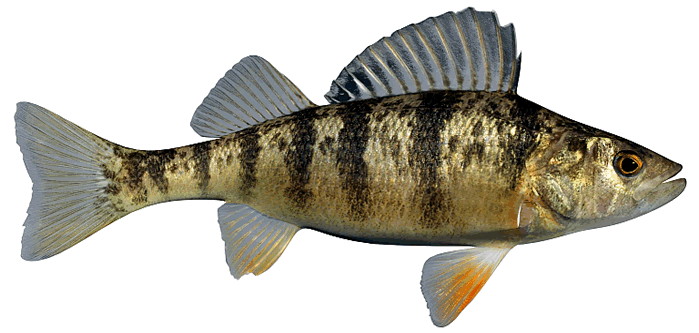 Perch Fishing Tactics
Lake Erie Perch are not picky eaters, especially during a feeding frenzy. Once we find a school of perch on our electronics, we anchor over them. We use perch-spreaders with two hooks on each line baited with Emerald Shiners.
 A favorite fishing method is to hook the shiners through the tail, not the mouth. Baiting shiners in this manner allows them to move and wiggle more on your hook and attract larger perch.
When Emerald Shiners do not work, we use other live baits such as larvae, night crawlers, wax worms, and grubs. Perch also enjoy cut bait like crayfish and perch eyes. Anglers should lower their spreaders to the bottom and, lift it up a bit and simply wait for a bite—we let the minnows do the action. Another popular method is to use crappie rigs in the same manner.
Perch fishing terms to know:
Up & Down/Hot & Heavy: As soon as you lower your bait, you're reeling it up.
Double Header: You're catching two yellow perch at a time, using a double hook tactic.
Triple Header: Similar to a Double Header, except three perch. This mostly occurs during a frenzy.
Steady Pick: When Yellow Perch are biting, but it's not a frenzy.
Slow Pick: The perch are biting every once in a while.
Recommended Lodging & Hotels
Ohio Fishing License and/or
Michigan Fishing License
Sunglasses
Sunscreen
Camera (with extra batteries)
Food & Drink
Cooler for Fish
Motion Sickness Medicine
Rain Gear
Deposits
A 25% non-refundable deposit of the total cost of your trip (or a minimum of $180) is required to hold any date on our calendar.
If you must cancel, your deposit can be applied to a future available date.
For more information about purchasing an Ohio fishing license or to purchase online, go to: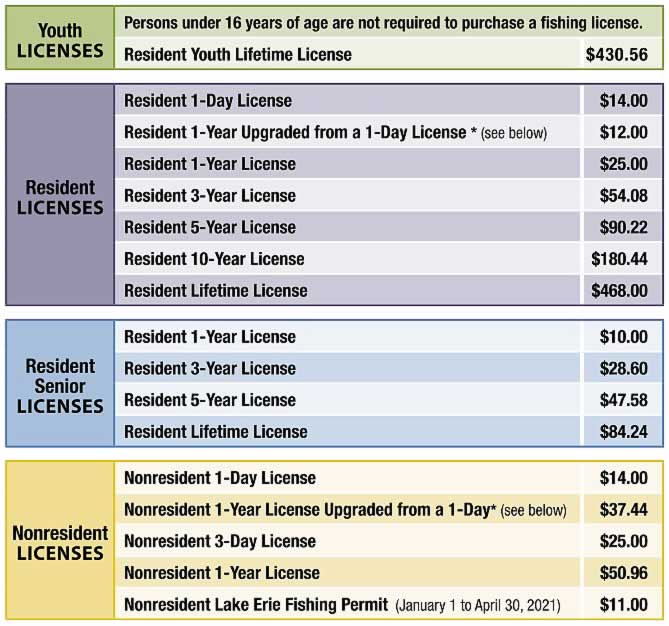 Nonresident Lake Erie Fishing Permit $11
* A Lake Erie fishing permit is required for non-residents from January 1 to April 30 annually when fishing Lake Erie and areas immediately upstream in creeks, rivers and tributaries.
Michigan Fishing Licenses
For more information about purchasing a MI fishing license or get them online at:
Michigan Department of Natural Resources
DNR Sportcard $1.00
All-Species Fishing Licenses
Resident Annual $26.00
Nonresident Annual $76.00
24-hour (Resident or Nonresident) ~ $10
72-hour (Resident or Nonresident) ~ $30