Lake Erie Guided Duck Hunts
We are one of the few duck hunting charters left on Lake Erie. Lake Erie is an annual hotspot for thousands of migrating ducks. Starting in early October, numerous species of waterfowl will come and go, until the lake freezes.
Rather than congregating around the shores, these ducks tend to camp from one to ten miles off the shores in surrounding lake bottoms. These lake bottoms are littered with buffets of Zebra Mussels and provide diver ducks with endless amounts of rich food.
What you need to bring

:
• Customers will bring their own guns and non-toxic shells
• A valid Ohio or Michigan hunting license
• Ohio State Duck Stamp
• Federal Duck Stamp
• Waders are recommended but not necessary
• Camouflage clothing is recommended but not necessary
• Rain gear is highly recommended
Duck Hunting Customer Photos
Our big water strategies start by surrounding our large layout boat with 100 to 200 Magnum and Super Magnum decoys. This large number of decoys provokes ducks to land in these areas, as large amounts of ducks indicate a safe area with ample amounts of food, which the herd of decoys mimics. While calling does help, it's not vital to success, as the sheer number of decoys is enough to convince waterfowl that the area is safe.
The tender boat used to transport the layout boat is anchored a distance away from the area to avoid spooking approaching waterfowl. All of our boats are USCG Tested and Approved to assure you feel comfortable and safe throughout your hunt.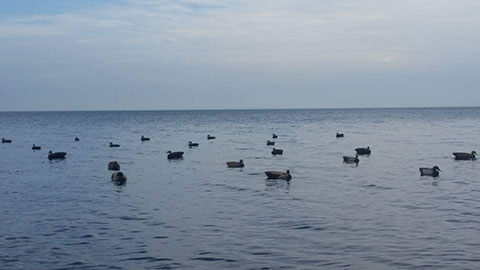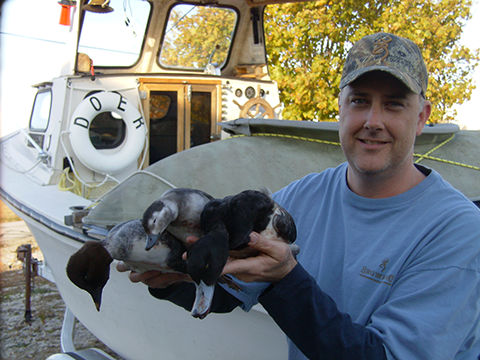 Ducks are typically divided into two categories based on their feeding habits: Divers and Dabblers. These ducks have adapted to large bodies of water, like Lakes Erie and St. Clair, and dive to the bottom of lakes for food.
On the other hand, dabbling ducks are adapted to shallow bodies of water such as ponds, lakes, and marshes, and feed by tipping or skimming along the water. They rarely ever submerge like their diver counterparts.
Aside from Mallards and American Black Ducks, most of the ducks you will encounter on Lakes Erie will be diver ducks.
Rate: $1050 per day for 1-3 hunters. plus an additional $350 per person up to 6 hunters.
Hunting Charters are 8 hours, dock-to-dock
Captain Zack George – (419) 575-6986
Captain Larry Weiss – (419) 707-1065
A complete list of ducks you may encounter during your hunt:
Bluebills get their nickname from their grayish-blue bills. They spend their breeding months diving in the Hudson Bay and Alaska waters, but spend the winter months on U.S. and Canadian coasts, as well as The Great Lakes.
Bufflehead habits are unique. They spend most of their breeding months in Canada, but winterize on the coast with no major population concentration. These divers tend to congregate on large lakes or rivers until they freeze, like The Great Lakes.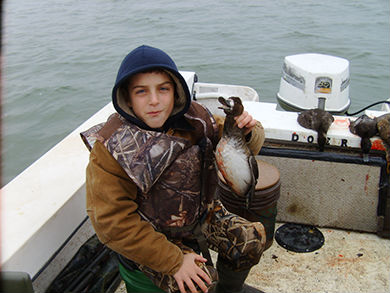 Redheads breed in northern U.S. and Canada prairies and winter to the east, west and south of their breeding grounds. They are the most common diving ducks in the United States.
Simply put, these diving ducks breed in Canada and Alaska and winter in a vast majority of the continental United States. Similar to the Barrow's, the Common Goldeneye is named after it's bright, golden iris.
Mergansers breed in Canada, Winter in the middle and southwest portions of the U.S., and live year-round along the U.S./Canada border. These divers feed on invertebrates in both marine and freshwater habitats.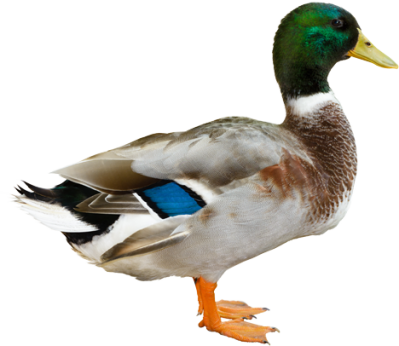 Other than Daffy and Donald, most people picture Mallards when they think of ducks. These dabbling feeders are found anywhere in North America and are the most abundant of North American Duck.
According to Duck's Unlimited, there were over 10.488 million Mallards in the world, more than doubling the second most abundant species.
Redheads breed in northern U.S. and Canada prairies and winter to the east, west and south of their breeding grounds. They are the most common diving ducks in the United States.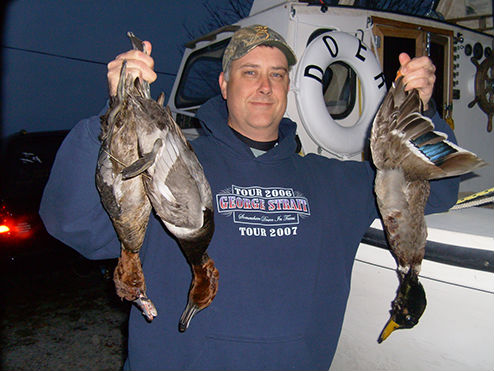 American Black Ducks are found throughout the eastern portion on North America, depending on the season. The dabbler feeders can be found year-round at The Great Lakes.
Canvasbacks spend both winter and breeding seasons diving in The Great Lakes, especially during the winter months. Males are known for their beautiful chestnut brown head and mostly all white body for which they are named after.
The longer the tail, the deeper ducks can dive, and the Long-tailed duck is amongst the best. They can be found on The Great Lakes and the Atlantic and Pacific coastlines when wintering.
Ruddy's dwell practically year-round at The Great Lakes. They're known for their fan-shaped tail that helps them dive for food, as well as their copper body and bright-blue bill.
Ring-necked Ducks breed in Canada and the northern U.S. and winter in the southern and coastal portions along the way. They make annual pit stops at The Great Lakes to dive for food during their migration south.