In North America Walleye are mostly considered to be a nocturnal feeding fish and are most easily caught at night and in pre-dawn hours. This is not the case in the Maumee River, as the river offers the best daytime walleye fishery in the world.
The Maumee River walleye run offers a true one-of-a-kind fishing adventure that is on many anglers' bucket list. The main reason walleye populate these waters is during their spring spawning season, but are active feeders while doing so. It has been said that there are more walleye per cubic foot of water in the Maumee River during the Spring walleye run than in any other place in the world. Liberal limits and the high volume of happy anglers is a testament to that.
Walleye are olive and gold in color with very sharp teeth. These freshwater predators can grow up to 30″ long and weigh up to 15 lbs.
Don't fight the crowds, come run the Maumee River in Style!
Capt. Zack George – (419) 575-6986 ~ Rate: $400 per day (5 hrs. dock to dock) ~ 1 to 2 anglers ~ 19′ GatorTrax River Boat ~
Fishing the Maumee River is an active style of rod in hand fishing, called cast drifting. While most anglers struggle wading to their desired fishing locations, our Maumee River Walleye Run Charters are from the convenience and comfort of a specially designed River Boat. Our clients come back year after year to fish the Maumee River because of the action packed fishing and comfort of our River Boat.
Our River Rig is a 19′ GatorTrax powered by a Mudbuddy 5500 Blackdeath Surface Drive motor. This boat affords us the ability to run the river in style and go where most only dream. Our river fishing charters are for 1-2 people. All fishing charters include rods. tackle. & bait in the price of the charter.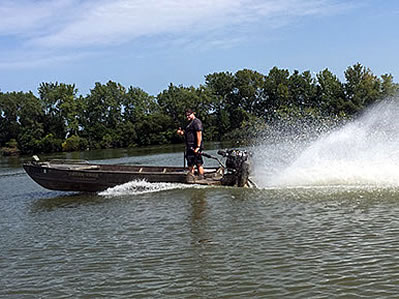 Recommended Lodging & Hotels